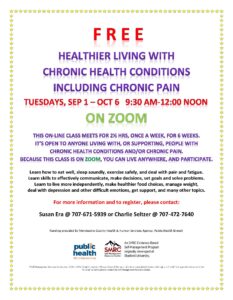 The Public Health Community Wellness Department of Mendocino County's Health and Human Services presents a FREE 6-week workshop over Zoom: Healthier Living with Chronic Health Conditions and Chronic Pain, 9:30am – 12:00 noon, Tuesdays, September 1 – October 6, 2020.
You'll meet other people who have similar health conditions, and you'll learn together in a supportive and sociable environment. What you learn in the workshop will not conflict with any medical treatment you might be receiving. In fact, your doctor will be very happy to hear that you are learning ways to manage your health in a way that impacts your mind and your body!
The teaching process makes this program effective. Classes are highly participatory. Mutual support and success builds participants' confidence in their ability to manage their health and maintain active and fulfilling lives.  The Workshop leaders, Susan Era and Charlie Seltzer, have been trained by certified Master Trainers from Stanford University's Self-Management Resource Center.
Participants make weekly action plans, share experiences, and help each other solve problems they encounter in creating and carrying out their self-management program. Techniques to deal with problems such as frustration, fatigue, pain and isolation are highlighted. Discussion also includes:
Appropriate exercise for maintaining and improving strength, flexibility, and endurance
Appropriate use of medications
Communicating effectively with family, friends, and health professionals
Nutrition
Decision making
This workshop will help you learn ways to manage your health, so that you can feel better and live life more fully, every day.
To sign up, please contact Susan Era (707) 671-5939 or Charlie Seltzer (707) 472-7640.